Digital Radiography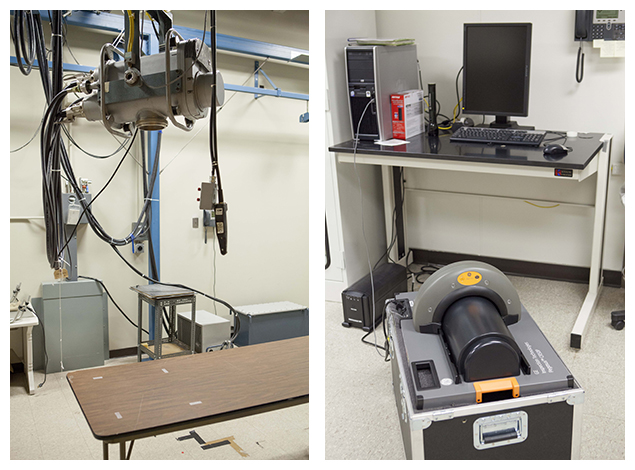 Left to Right: MCI's Philips MOD 301/4 X-ray tube. The GE Pegasus CR50P scanner and workstation.
X-radiography, or x-ray, of museum collections can aid in the research and conservation of these objects by enhancing the understanding of the material and providing information for characterization and condition assessment. X-ray is a non-invasive and non-destructive imaging technique that can reveal information beyond the visible. The radiographic image is the record of how the radiation is absorbed, transmitted or scattered by an object. In the past this record was formed on film, but now it is either on reusable phosphor imaging plates that are then scanned (indirect capture or computed radiography, CR) or a digital detector (direct capture or direct radiography, DR).
MCI is equipped with the GE Pegasus CR50P scanner for computed radiography (CR). We use 14x17in IPS and 14x36in IPC2 phosphor imaging plates allowing us to x-ray larger objects with fewer exposures and less stitching. We have a large lead lined room with an oversized sliding door acting as an entry for larger objects. For the most part we are not limited by the room size or imaging plate size. Our x-ray source is a Philips MOD 301/4, which goes up to 300kV and 10mA allowing us to work with thicker and more dense objects.
This imaging method is useful as it can provide information about construction techniques, establish its condition, identify materials that the object is made from and the structure of the object, and it can reveal underlayers of paintings or details of decorations. This information can help create a conservation plan for cleaning or preserving an object.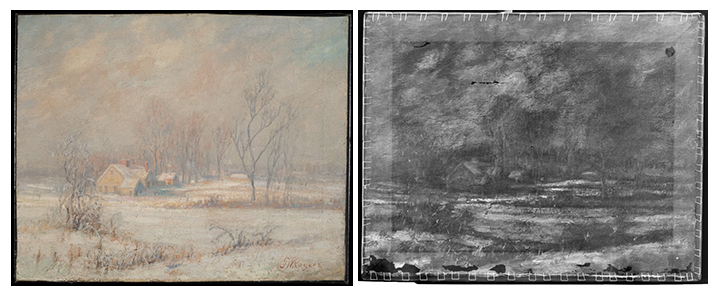 Visible light view and x-ray of 1880 oil on canvas landscape by FW Rogers. The x-ray reveals losses along the bottom edge, a tear in the top left quadrant, and the staples and stretcher making up the structure of the painting.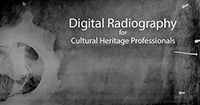 This web resource is an effort to initiate the conversation about the development of standardization in digital radiography, as applied to the imaging of cultural heritage materials. The goal is to create a resource for cultural heritage professionals using digital radiography, and a reference for institutions transitioning from film-based radiography or starting out with their digital radiography capabilities. more...
Further Reading
Gilardoni, Arturo, Orsini Riccardo. Ascani, and Silvia Taccani. X-rays in Art. Mandello Lario: Gilardoni, 1977. Print.
Graham, Daniel, and Thomas Eddie. X-ray Techniques in Art Galleries and Museums. Bristol: Adam Hilger Ltd, 1985.
Lang, Janet, and Andrew Middleton. Radiography of Cultural Material. 2nd ed. Burlington: Butterworth-Heinemann, 2005. Print.
O'Connor, Sonia A., and Mary M. Brooks. X-radiography of Textiles, Dress and Related Objects. Amsterdam: Elsevier/Butterworth-Heinemann, 2007. Print.
Radiography in Modern Industry. 3rd ed. Rochester, NY: Eastman Kodak, 1969. Print.
The fundamentals of radiography. 11th ed. Rochester, NY: Eastman Kodak Co., 1968. Print.