PROJECT HIGHLIGHTS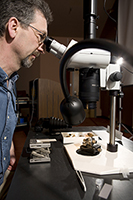 Melvin (Mel) J. Wachowiak, Jr., Senior Conservator at the Smithsonian's Museum Conservation Institute (MCI) passed away May 28, 2014, at his home in Davidsonville, MD, after a long struggle with cancer. The MCI Imaging Studio was named in memory of Melvin J. Wachowiak, Jr on July 9, 2014. The naming of the Imaging Studio after Mel is an effort to carry on the priorities and features that characterized Mel and made his work outstanding.
more...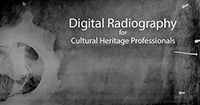 Radiography has been a standard non-invasive and non-destructive technique for cultural heritage professionals as a means of documentation to assess the condition and construction, aid in the care and treatment, and to increase the understanding of an object. This web resource is an effort to initiate the conversation about the development of standardization in digital radiography, as applied to the imaging of cultural heritage materials. The goal is to create a resource for cultural heritage professionals using digital radiography, and a reference for institutions transitioning from film-based radiography or starting out with their digital radiography capabilities.
more...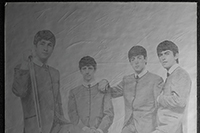 The Jewish Historical Society of Greater Washington approached MCI for help revealing the inscription on the back of a photo of the Beatles. RTI helped to reveal a note and the signatures of the Beatles. A Smithsonian Institution Archives blog post describes the imaging and findings.
more...
The Konter Ukulele, carried to the North Pole on the 1926 Byrd expedition, bears as many as 100 signatures including notable Arctic and Antarctic explorers as well as significant political figures and celebrities of the day. Imaging included Reflected Infrared Digital Photography (IR), Infrared Reflectography (IRR), Reflectance Transformation Imaging (RTI), UV-induced Visible Fluorescence, and Multispectral (MSI).
more...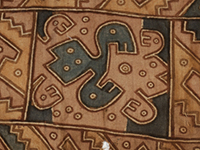 MCI was requested to do imaging and analysis of four painted Peruvian textiles from the collection of the National Museum of the American Indian (NMAI).The textiles have only minimal provenance and cultural attribution and the results of the preliminary phases of imaging and analysis will be used to determine some of the pigments used and if imaging techniques will be useful for pigment identification and elucidation of production techniques as well as identification/characterization of pigment and binder.
more...