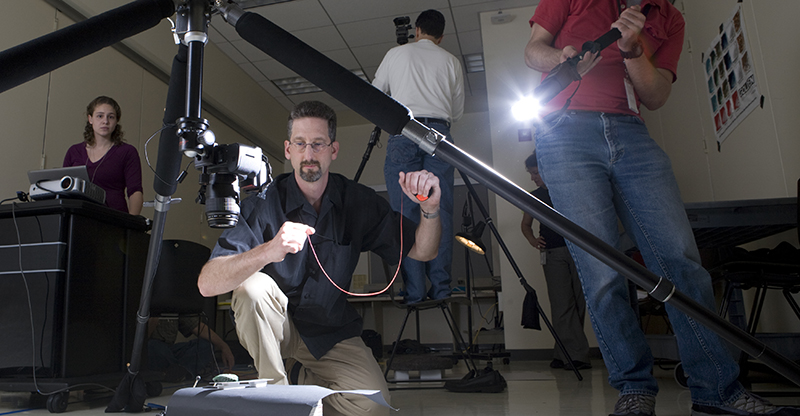 Photo by Marlin Lum, Cultural Heritage Imaging.
Naming of MCI Imaging Studio after Mel Wachowiak
Melvin J. Wachowiak, Jr., Smithsonian Senior Conservator
February 15, 1958- May 28, 2014
Staff Portrait of Mel Wachowiak
Melvin (Mel) J. Wachowiak, Jr., Senior Conservator at the Smithsonian's Museum Conservation Institute (MCI) passed away May 28, 2014, at his home in Davidsonville, MD, after a long struggle with cancer.
Mel received his M.S. in Art Conservation, with a Major in Joined Wooden Objects, from Winterthur Museum, Art Conservation Program, University of Delaware in 1989 and a B.S. from Springfield College in 1981. His professional training was in the conservation of wood objects such as furniture and he had a special interest in Asian furniture. Mel began his career at the Smithsonian's MCI, then called Conservation Analytical Laboratory (CAL), in August 1989 as a professional furniture conservator, with proven expertise as a microscopist among his many skills. He developed new techniques and materials for examining and restoring wooden objects, including identification of wood types, and textile and paint sources.
Over the past decade, Mel had developed and led the use of 3D scanning, multi-spectral imaging, other computational imaging techniques, and most recently reflectance transformation imaging (RTI), to enhance the quality and scope of information that can be captured digitally. He demonstrated the cultural heritage applications of these techniques through a multitude of collaborative research, conservation, and exhibition projects carried out with Smithsonian partners, and developed an international reputation as a leader in digital imaging. Keenly aware of the importance of techniques that are both portable and truly non-invasive (requiring no samples and not altering the original in any way), Mel sought new ways to capture high-resolution digital information at a time when these were relatively unknown technologies in the museum community.
Mel was dedicated to mentoring and training others, including Smithsonian staff, fellows, and interns, in the use of these techniques in their own project work. At the same time he worked actively with professional partners and service providers to develop improvements of these technologies' features for use in a museum research and preservation context.
He was the soul of MCI and a great asset for the Smithsonian. He was very generous sharing his knowledge and friendship with everyone and will be deeply missed.¹
The MCI Imaging Studio was named in memory of Melvin J. Wachowiak, Jr on July 9, 2014. The naming of the Imaging Studio after Mel is an effort to carry on the priorities and features that characterized Mel and made his work outstanding. It is a hope that the imaging will continue to be thoughtful and meticulous at the high standard that Mel had; that the nature of the studio will involve the sharing of knowledge and collaboration; that the techniques will continue to be accessible involving research to maintain innovation; and that we can carry on the enthusiasm for the process and results that was very much a part of Mel.
¹Excerpts from Full MCI Obituary