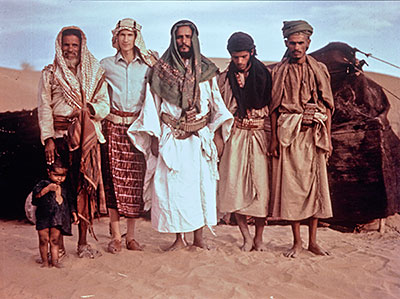 Arthur M. Sackler Gallery
1050 Independence Avenue, SW
Washington, DC
Sublevel 1 Floor Plan
Wendell Phillips, a young, dashing paleontologist and geologist, headed the largest archaeological expedition to remote South Arabia (present-day Yemen) from 1949 to 1951. Accompanied by some of the leading scholars, scientists, and technicians of the day, Phillips was on a quest to uncover two ancient cities—Tamna, the capital of the once-prosperous Qataban kingdom, and Marib, the reputed home of the legendary Queen of Sheba—that had flourished along the fabled incense road some 2,500 years earlier.
Through a selection of unearthed objects as well as film and photography shot by the expedition team, the exhibition highlights Phillips's key finds, recreates his adventures (and misadventures), and conveys the thrill of discovery on the last great archaeological frontier.
Featured is a pair of Hellenistic bronze lions that confirms Yemen's sophisticated metal industry and its artistic contacts with the Mediterranean world. Also on view are delicately carved alabaster ibexes, finely articulated funerary sculpture, and a wealth of inscriptions that offer unprecedented insight into the life and times of the ancient people of Arabia.
These objects are part of a gift of more than 370 works from the American Foundation for the Study of Man, the organization created by Merilyn Hodgson to further the research of Wendell Phillips, her brother. Hodgson herself returned to Arabia to continue archaeological excavations after political unrest forced Phillips out of region.