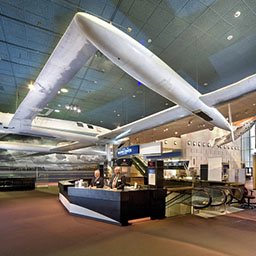 National Air and Space Museum
Independence Avenue and 6th Street, SW
Washington, DC
1st Floor, Center, Gallery 108 Floor Plan
The Welcome Center features the information desk and the following:
Robert T. McCall Mural: The Space Mural—A Cosmic View by Robert T. McCall portrays the past, present, and future of the universe with a depiction of the Big Bang, an Apollo astronaut on the Moon, and a lunar rover and second astronaut.
Eric Sloane Mural: Earth Flight Environment by Eric Sloane illustrates different weather phenomena in our atmosphere—lightening, rain, a rainbow—and a variety of cloud forms as a single airplane streaks across the sky.
Trophy Case featuring the following objects:
- The Aero Club Trophy for Aviation Excellence, along with a list of winners.
- The NASM Trophy for extraordinary achievements in aerospace.
- A model of Ascent by John Safer, a 65-foot sculpture installed at the Udvar-Hazy Center.
Voyager: Around the World Without a Pit Stop
For details see separate entry.