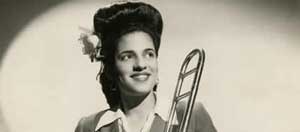 National Museum of American History
14th Street and Constitution Avenue, NW
Washington, DC
1st Floor, West Wing (outside the Archives Center) Floor Plan
In changing display cases, the Archives Center features items from the museum's archival collection that document America's history and its diverse cultures, ranging from correspondences, diaries, financial and legal documents, photographs, and sound recordings. The following case is on view:
The International Sweethearts of Rhythm
On view are photographs, documents, and part of a 1945 tour uniform related to the International Sweethearts of Rhythm, the world's first integrated all-female big band. The band members were primarily African American and mixed-race women in their teens and early 20s. During the 1940s, the band featured some of the best female musicians of the day.