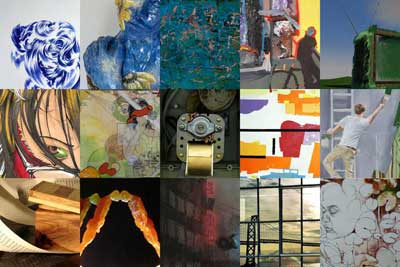 S. Dillon Ripley Center
1100 Jefferson Drive, SW
Washington, DC
Discovery Theater Corrider, Sublevel 3
This exhibition features the work of 15 emerging artists with disabilities, who present work that illuminates innovative viewpoints on sustainability and contemporary creativity. Beyond its scientific definition, sustainability references notions of responsibility and stewardship of our world in all facets of human interaction, from the environmental to the cultural. While each selected artist is wholly unique in his or her creation, they all exemplify the idea that sustainability indicates the capacity to endure.
This year's selected artists are: Jacob Brown (Pennsylvania), Colin Budd (Pennsylvania), Rachel Chansler (Montana), Alice Chen (California), Ned Dibner (North Carolina), Leland Foster (Maine), Taylor Gray (Connecticut), Dylan Guest (Maryland), Kevin Hosseini (California), Naima Kazmi (New Jersey), Stephen Proski (Missouri), Sam Sadtler (Massachusetts), Kara Stokowski (Massachusetts), Qingyun Wang (California), and Amie York (Colorado).
Sustaining/Creating is the 11th exhibition in this series presented by VSA and Volkswagen Group of America, Inc. The partnership supports young artists at a critical time when many are deciding whether to pursue the arts as a career. The award validates and supports that life-defining choice.
Presented in coordination with the Kennedy Center and the Smithsonian's Office of Accessibility.