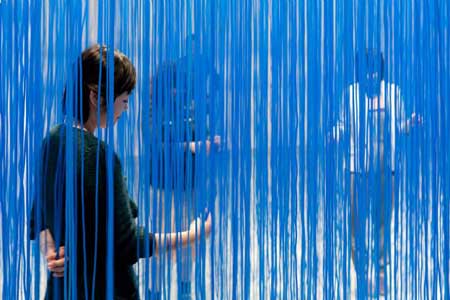 Hirshhorn Museum and Sculpture Garden
Independence Avenue at 7th Street, SW
Washington, DC
Level 2 Floor Plan
The focus of this exhibition is to explain the international light-and-space art movement of the mid- and late 20th century. The exhibition consists of large-scale installations by five artists from South America who created landmark works in the 1950s and 1960s:
Lucio Fontana (1899 Argentina - 1968 Italy): Neon Structure for the IX Triennale of Milan
Julio Le Parc (1928 Argentina - active France): Light in Movement
Carlos Cruz-Diez (1923 Venezuela - active France): Chromosaturation
Jesús Rafael Soto (1923 Venezuela - 2005 France): Blue Penetrable BBL
Hélio Oiticica (Brazilian, 1937-1980), collaborated with Neville D'Almedia (Brazilian): Cosmococa No. 1: Trashiscapes
By developing large-scale, multimedia constructions of light and color, these Latin Americans engaged viewers more actively in a physical process of exploring the possibilities of visual and spatial perceptions. Although Fontana, Le Parc, Cruz-Diez, Soto, and Oiticica exerted considerable influence on their contemporaries and on subsequent generations, their works have often been overlooked in publications and exhibitions. Suprasensorial underscores their innovative contributions and acknowledges their seminal role in the ongoing, global light-and-space tradition. The five installations—which have heretofore been known only to a small number of people—create enveloping optical effects that overwhelm and transform sensory experience.