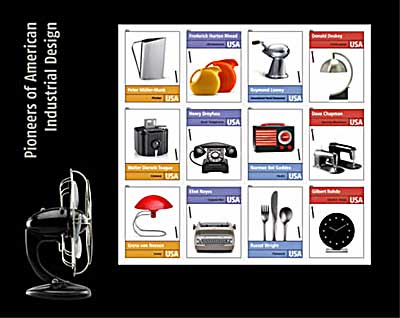 Cooper Hewitt, Smithsonian Design Museum
2 East 91st Street
New York, NY
Lobby
The U.S. Postal Service recognized the work of American industrial designers in a new series of Forever stamps launched on June 29, 2011. Honored as "Pioneers of American Industrial Design" are Dave Chapman, Donald Deskey, Henry Dreyfuss, Norman Bel Geddes, Raymond Loewy, Peter Müller-Munk, Eliot Noyes, Frederick Hurten Rhead, Gilbert Rohde, Walter Dorwin Teague, Greta von Nessen, and Russel Wright. On view in this exhibition are eight objects featured on the stamps from the collection of George R. Kravis II; these objects helped shape the look of everyday life in the 20th century:
Henry Dreyfuss's 1937 Model 302 Bell telephone
Norman Bell Geddes's 1940 Patriot radio
Peter Müller-Munk's 1935 Normandie pitcher
Eliot Noyes's 1961 Selectric typewriter for IBM
Frederick Hurten Rhead's 1936 Fiesta pitcher
Walter Dorwin Teague's 1934 Baby Brownie camera
Greta von Nessen's 1951 Anywhere lamp
Russel Wright's 1951 Highlight/Pinch flatware
Also on view is a design drawing by Russel Wright from the museum's collection.
Organized by the Cooper-Hewitt, National Design Museum with the Philbrook Museum of Art.