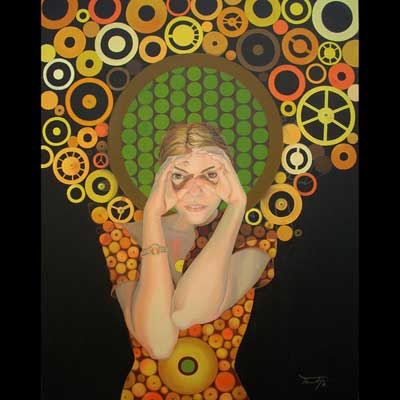 S. Dillon Ripley Center
1100 Jefferson Drive, SW
Washington, DC
International Gallery Corridor, Sublevel 3
This exhibition features the work of 15 emerging artists with disabilities who examine the vital creative spark behind their work. What is the force that drives their artistic interest? What informs the direction they take each day as they move toward the future?
This year's artists are Dimelza Broche (Florida), Holiday Campanella (Pennsylvania), Will Copps (District of Columbia), Angela Godoy (Maryland), Brian Kellett (Ohio), Krista Kuskye (Indiana), Emily Gail Lyles (South Carolina), Artur Matveichenkov (Puerto Rico), Emily McPeek (California), Caitlin Miller (District of Columbia), Xi Nan (Maryland), Sonya Seitz (Pennsylvania), Jansen Smith (Florida), Rea Walsh (Pennsylvania), and Beth Zarden-Benson (Wisconsin).
Momentum is the 9th exhibition in this series presented by VSA and Volkswagen Group of America, Inc. The partnership supports young artists at a critical time when many are deciding whether to pursue the arts as a career. The award validates and supports that life-defining choice.
Presented in coordination with the Kennedy Center and the Smithsonian's Office of Accessibility.