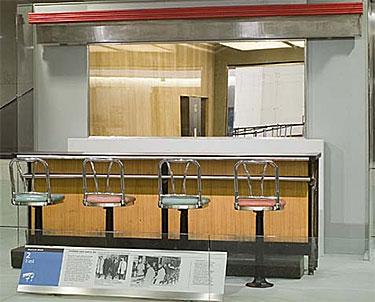 National Museum of American History
14th Street and Constitution Avenue, NW
Washington, DC
Main Corridors of each wing Floor Plan
Large, iconic artifacts in the main corridor of each wing highlight the wing's key exhibition themes:
Ralph Baer's Inventor's Workshop (1st Floor, West Wing Corridor, Innovation, Creativity, and Enterprise)
Visitors can view the home workshop of Ralph Baer, known as the inventor of the home video game. A monitor adjacent to the workshop will show an excerpt from an original color video tape of the "Brown Box," the first video gaming system.
John Bull Locomotive (1st Floor, East Wing Corridor, Transportation and Technology)
On view is the steam locomotive John Bull and a section of the first iron railroad bridge in America.The John Bull was built in 1831 and ran for 35 years, pulling trains of passengers and cargo between the two largest cities of the time, Philadelphia and New York. The locomotive propelled trains at 25 to 30 miles per hour. The John Bull, which was ordered from England by Robert Stevens for his railroad company, was named after the mythical gentleman who symbolized England. It was assembled by Isaac Dripps, a young steamboat mechanic who had never seen a locomotive before.
Greensboro Lunch Counter (2nd Floor, East Wing Corridor, American Ideals)
This section of the Woolworth's lunch counter with 4 stools from Greensboro, North Carolina, represents the February 1, 1960 sit-in that challenged segregated eating places. On February 1, 1960, four African American students—Ezell A. Blair, Jr. (now Jibreel Khazan), Franklin E. McCain, Joseph A. McNeil, and David L. Richmond—sat down at this counter and politely asked for service. Their request was refused. When asked to leave, they remained in their seats. They were all enrolled at the North Carolina Agricultural and Technical College. Their "passive sit-down demand" began one of the first sustained sit-ins and ignited a youth-led movement to challenge injustice and racial inequality throughout the South.
George Washington Sculpture (2nd Floor, West Wing, American Lives)
On view is the marble statue of George Washington commissioned by Congress in 1832 to commemorate the centennial of our first president's birth. The artist, Horatio Greenough, modeled his figure of Washington on a classical Greek statue of Zeus, but the semi-clothed statue attracted controversy and criticism as soon as it arrived in the city in 1841. In 1908, Congress transferred the statue to the Smithsonian, where it went on view in the Castle. Then in 1964, it was moved to the museum for its opening.
Civil War Draft Wheel (3rd Floor, East Wing Corridor, American Wars and Politics)
This Civil War draft wheel demonstrates the beginning of conscription (military draft) in the United States; it functioned as part of a procedure to select men for military service. The names of men eligible for the draft were written on slips of paper and dropped into holes inside the wheel. An official pulled out names to fill the ranks of the Union army.