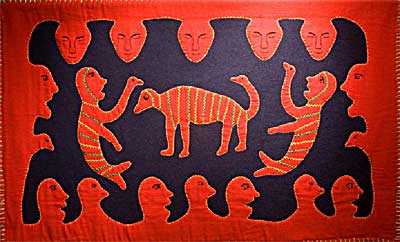 S. Dillon Ripley Center
1100 Jefferson Drive, SW
Washington, DC
Concourse, Sublevel 3
Three exhibitions explore the art, culture, and environment of the Inuit:
From Kingait to Ulukhaktok: The Artist as Cultural Historian: The works on view reveal how drawings are transformed into stonecut, stencil, and lithograph prints, as well as etchings and engravings. The historic printmaking art form symbolizes social, cultural, and economic changes that have taken place across the North and memorializes these changes in a compelling visual record.
Culture on Cloth: Some 19 colorful wool tapestries made by women from Baker Lake, a small Inuit community of 1,300 in the Canadian territory of Nunavut, depict hunting scenes and other traditional symbols of Inuit culture.
Maine to Greenland: Exploring the Eastern Inuit World: Wilfred Richard's photographs depict the changing environments in the Arctic, maritime Maine and Canada, Subarctic Labrador, and Arctic Nunavut and Greenland.