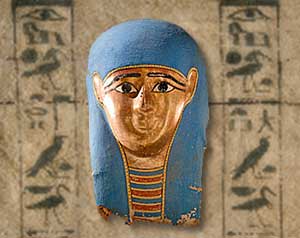 National Museum of Natural History
10th Street and Constitution Avenue, NW
Washington, DC
2nd Floor, West Wing Floor Plan
Learn about Egyptian burial ritual; its place with ancient Egyptian cosmology; and the insights that mummies, burial rites, and cosmology provide about life in ancient Egypt. As a preview to the new exhibition scheduled to open November 17, 2011, the following three cases are on view:
In the Mummy's Tomb is a re-creation of a tomb with a mummy and its coffin (ca. 150 BC to AD 50 ) and a variety of grave goods from various periods (ca. 3500 BC to AD 50). Such grave goods were intended to provide the deceased with the spiritual and physical support needed for smooth passage to eternity.
Making a Mummy reveals the step-by-step process of mummification. Scientific studies indicate that the 2,200-year-old mummy on view ate little meat and that his lungs contain soot, which he probably inhaled while tending fires.
What's in a Face displays 6 mummy masks dating from ca. 1388 BC to AD 200 to trace the changing style of coffin decoration and to bring visitors face-to-face with the living people behind the mummies.