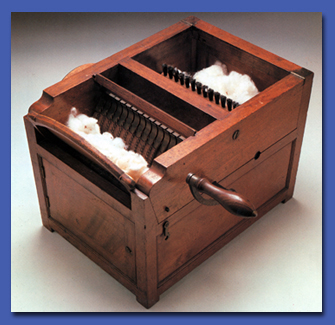 National Museum of American History
14th Street and Constitution Avenue, NW
Washington, DC
2nd Floor, West Wing Floor Plan
This exhibition explores the excitement and dynamism of American life during the 19th century through the experiences of three communities: Industrial Era Bridgeport, Connecticut; Jewish Immigrant Community of Cincinnati, Ohio; and African Americans living in 19th-century Charleston, South Carolina. Major artifacts include a model of an Eli Whitney cotton gin and an Edison light bulb.
Owners, Mechanics, and Operatives: The Promise of Industrialization looks at the new world of mills and factories through the eyes of owners and workers at the Wheeler and Wilson Manufacturing Co., a sewing-machine factory in Bridgeport, Connecticut.
Jewish Immigrants: The Promise of a New Life considers the experiences of the 200,000 central Eastern European Jews who arrived in the United States between 1820 and 1880, focusing on Cincinnati, Ohio, an important city in the development of American Reform Judaism. Many Jewish immigrants to this area worked as peddlers, merchants, and manufacturers. This section features a fully outfitted late 19th-century peddler's cart.
African Americans in Slavery and Freedom: Promise Deferred provides insights into the experience of urban and rural slavery and the limits placed on free blacks though the eyes of people who lived in low-country South Carolina in the 1800s. This section features re-creations of an 1840s slave cabin and of the Charleston Market.