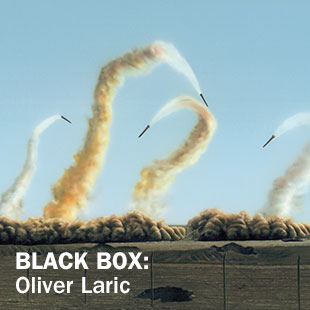 Hirshhorn Museum and Sculpture Garden
Independence Avenue at 7th Street, SW
Washington, DC
Lower Level Floor Plan
The Black Box theater showcases rotating exhibitions of contemporary artists who use film or video as their creative medium.
Video installation showing recent work by contemporary Austrian artist Oliver Laric.
The Versions videos of Oliver Laric (Austrian, b. Innsbruck, 1981; lives and works in Berlin) are essayistic collages that examine the erosion of notions of authenticity and individual authorship by addressing the history of the bootleg, the remix, and the hybrid. Looking from the proliferation of cut-and-paste online memes back to the shared myths of antiquity, Laric takes up phenomena as diverse as the Photoshopping of a publicity photo of an Iranian missile launch, the reuse of character animations by Disney and Warner Bros., and the basis of classical statuary in common iconographies and a library of stock poses. The voiceover in Laric's videos is provided by an actress instructed to simulate the stilted diction of text-to-speech software. Her discursive narration consists largely of repurposed snippets of text from writers as varied as Henry James, Gertrude Stein, Jorge Luis Borges, Bruce Lee and James Brown, by way of Lyn Collins, Rob Base and DJ E-Z Rock.