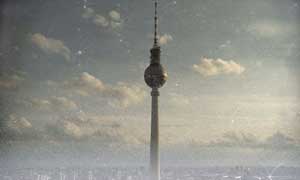 Hirshhorn Museum and Sculpture Garden
Independence Avenue at 7th Street, SW
Washington, DC
Lower Level Floor Plan
The Black Box theater showcases rotating exhibitions of contemporary artists who use film or video as their creative medium. Films or videos run continuously.
April 4, 2011-August 14, 2011
The works of Laurent Grasso (French/Italian, b. 1972) encompass projections, drawing, painting, sculpture, and recently the installation of a temporary restaurant on the roof of the Palais de Tokyo in Paris. Grasso often depicts strange interfaces between the natural realm and the world created by humankind as shown in these two videos:
Polair (2007, 8:30 min) surveys architecture in the area that was formerly East Berlin, focusing on the city's iconic television tower, its tramway equipment, and various structures that transmit electromagnetic waves. In interviews, Grasso resisted speculating the precise meaning of his mysteries. Is the sparkly fluff that sails through the air cosmic lint or an invasive botanical species? Or is it a mapping of telecommunications pathways?
Les Oiseaux (2008, 8:55 min) shows a curious ballet of dense flocks of birds against a rosy sunset over the Roman skyline near the Vatican.They move as though elastically connected.