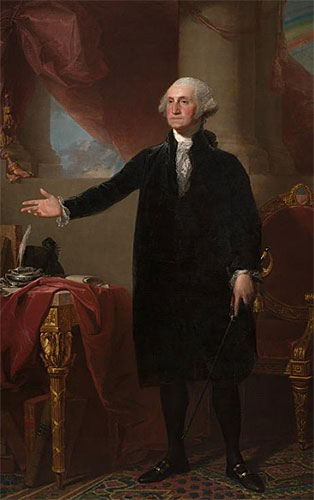 National Portrait Gallery
8th and F Streets, NW
Washington, DC
2nd Floor, South Floor Plan
The nation's only complete collection of presidential portraits outside the White House, this exhibition lies at the heart of the Portrait Gallery's mission to tell the American story through the individuals who have shaped it.
Visitors will see an enhanced and extended display of multiple images of all the United States presidents, including Charles Willson Peale's portrait of George Washington, currently on loan from the Crystal Bridges Museum of American Art. The exhibition also features whimsical sculptures of Presidents Lyndon Johnson, Jimmy Carter, Richard Nixon and George H. W. Bush by noted caricaturist Pat Oliphant. Presidents Washington, Andrew Jackson, Lincoln, Theodore Roosevelt and Franklin D. Roosevelt are given expanded attention because of their significant impact on the office. Presidents from FDR to Bill Clinton are featured in a video component of the exhibit.
Please note:
Feb. 26 through March 23, 2017— America's Presidents will be closed to the public.
March 24 through September 4, 2017 — America's Presidents will be temporarily installed in the west gallery on the second floor. After a brief closure in order to move the artwork, the portraits of America's presidents will remain on view through September 4 before moving back into the newly restored gallery spaces and reopening September 22.
September 22, 2017 — America's Presidents reopens. After 18 months of careful conservation and analysis, Gilbert Stuart's "Lansdowne" portrait of George Washington will be back on view in the newly refurbished America's Presidents gallery. The Portrait Gallery's permanent exhibition will reopen with updated displays, invigorated spaces and more content.