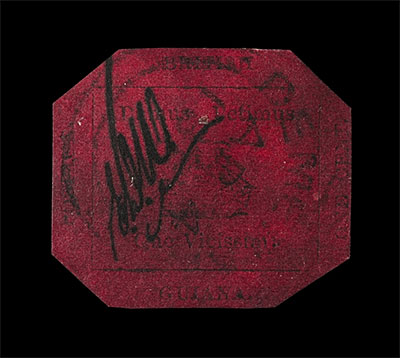 National Postal Museum
2 Massachusetts Avenue, NE
Washington, DC
Level 2, William H. Gross Stamp Gallery Floor Plan
The National Postal Museum will display the world's rarest postage stamp, the 1856 British Guiana One-Cent Magenta. The exhibition of the stamp will be the longest and most publicly accessible showing ever.
No postage stamp is rarer than the sole-surviving example of the British Guiana One-Cent Magenta. Printed in black ink on magenta paper, it bears the image of a three-masted ship and the colony's motto in Latin: "we give and expect in return." Noted for its legacy, the stamp was rediscovered by a 12-year-old Scottish boy living in South America in 1873, and from there passed through some of the most important stamp collections ever assembled. It is the only major rarity absent from the Royal Philatelic Collection owned by Queen Elizabeth II.
Note: The stamp will not be on view May 23 – June 10, 2016.