Collection items related to the Titanic powered by the Smithsonian Institution EDAN Widgets
Information and research assistance regarding the steamship R.M.S. Titanic is frequently requested from the Smithsonian Institution. To assist those interested in the topic, the following information has been prepared by the Division of Work and Industry, Transportation Collections, National Museum of American History, in cooperation with Public Inquiry Services of the Smithsonian's Office of Visitor Services.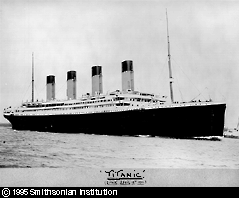 The Titanic was a White Star Line steamship carrying the British flag. She was built by Harland and Wolff of Belfast, Ireland, at a reported cost of $7.5 million. Her specifications were:
Length overall: 882.5 feet
Gross tonnage: 46,329 tons
Beam: 92.5 feet
Net tonnage: 24,900 tons
Depth 59.5 feet
Triple screw propulsion
On 10 April 1912, the Titanic commenced her maiden voyage from Southampton, England, to New York, with 2,227 passengers and crew aboard. At 11:40 p.m. on the night of 14 April, traveling at a speed of 20.5 knots, she struck an iceberg on her starboard bow. At 2:20 a.m. she sank, approximately 13.5 miles east-southeast of the position from which her distress call was transmitted. Lost at sea were 1,522 people, including passengers and crew. The 705 survivors, afloat in the ship's twenty lifeboats, were rescued within hours by the Cunard Liner, Carpathia.
The wreck of the Titanic was located by a French and American team on 1 September 1985 in 12,500 feet (3,810 m) of water about 350 miles (531 km) southeast of Newfoundland, Canada. A 1986 expedition documented the shipwreck more thoroughly.
The following photographs are available: the Titanic, starboard view (Neg. #34,460); profile and deck plans (Neg. #44,066 and Neg. #44,066-A). Information on ordering Smithsonian photographs can be found at http://photo2.si.edu/policies.html
In addition, the NMAH's new permanent exhibit On the Water opened in 2008: a section of the "Ocean Crossings" area is devoted to the story of Titanic, seen here: http://americanhistory.si.edu/onthewater/exhibition/5_3.html#Titanic
Suggested References
Smithsonian online exhibitions:
Books:
Ballard, Robert D. The Discovery of the Titanic. New York: Warner Books, 1987.
Davie, Michael. Titanic: The Death and Life of a Legend. New York: Alfred A. Knopf, 1987.
Eaton, John P. and Charles A. Haas. Titanic: Triumph and Tragedy. New York and London: W. W. Norton & Co., 1986.
Lord, Walter. A Night to Remember. New York: Henry Holt, 1955.
_____. The Night Lives On. New York: Morrow, 1986.
Lynch, Don. Titanic: An Illustrated History. Toronto: Madison Press, 1992.
National Geographic. 168.6 (December 1985).
Websites:
Prepared by the Division of Work and Industry,
Transportation Collections, National Museum
of American History, in cooperation with Public Inquiry Services, Smithsonian Institution
PIMS/TRA30/2/11