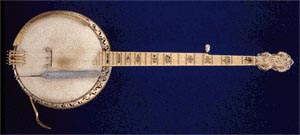 Overall view of a fancy banjo, ca 1928. Made by Bacon & Day Co. of Groton, Connecticut for George Reams, a soloist, teacher and radio banjoist. It is a NePlus Ultra Model. From the collections of the Division of Musical Instruments of the Smithsonian's National Museum of American History. Smithsonian photo by Laurie Minor-Penland. (c) 1991 Smithsonian Institution.
Information or research assistance regarding American folk instruments is frequently requested from the Smithsonian Institution. The following information has been prepared to assist those interested in this topic.
Baines, Anthony. European and American Musical Instruments. New York: Viking Press, 1966.
Bryan, Charles Faulkner. "American Folk Instruments: The Appalachian Mountain Dulcimer." Tennessee Folklore Society Bulletin 18 (March 1952): 1-5.
Heaton, C.P. "The Five-String Banjo in North Carolina." Southern Folklore Quarterly 35 (1971): 42.
Lester, Julius, and Peter Seeger. The 12-String Guitar as Played by Leadbelly: An Instruction Manual by Julius Lester and Pete Seeger. New York: Oak Publications, 1965.
Mitchell, Howard W. The Hammered Dulcimer. 3d ed. Sharon, CT: Folk Legacy Records,
_____. The Mountain Dulcimer: How to Make and Play It (After a Fashion). Huntington, VT: Folk Legacy Records, 1966. Record and booklet.
Moore, A. Doyle. "The Autoharp." New York Folklore Quarterly 19 (December 1963): 261-74.
Odell, Scott. "Folk Instruments." Arts in Virginia 12 (Fall 1971): 31.
Putnam, John F. The Plucked Dulcimer and How to Play It. Berea, KY: Council of the Southern Mountains, 1961.
Rizzetta, Sam. Hammer Dulcimer: History and Playing. Washington, DC: Smithsonian Institution, 1972.*
______. Making a Hammer Dulcimer. Washington, DC: Smithsonian Institution, 1972.*
Sadie, Stanley and Tyrell, John, ed. The New Grove Dictionary of Music and Musicians, 2nd Edition, 29 vols. London, New York: Oxford University Press, 2001.
Seeger, Charles. "The Appalachian Dulcimer." Journal of American Folklore (January-March 1958): 40-51.
Seeger, Peter. How to Play the 5-String Banjo: A Manual for Beginners. 3d ed. Beacon, NY: by the author, 1962.
Taussig, Harry. Folkstyle Autoharp. New York: Oak Publications, 1967.
*Available free-of-charge from Public Inquiry Services, Smithsonian Institution, Washington, DC 20560.
Prepared by the Division of Music, Sports
and Entertainment in cooperation with Public Inquiry Services, Smithsonian Institution