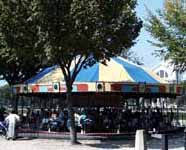 Carousel in front of the Smithsonian's Arts and Industries Building
Information or research assistance regarding carousels is frequently requested from the Smithsonian Institution. The following information has been prepared to assist those interested in this topic.
REFERENCES
Charles, Barbara. "Merry-Go-Rounds: The Charm and Artistry of Antique Hand-Carved Animals Recalls Joys of the Past," Smithsonian Magazine, July 1972, pp. 40-47. A photographic essay with good color printing. (This issue is no longer available from Smithsonian magazine, but may be found in many libraries.)

Dinger, Charlotte. Art of the Carousel. Green Village, NJ: Carousel Art, Inc., 1983.

Fraley, Tobin. The Carousel Animal. Berkeley, CA: Zephyr, 1984.

Fried, Frederick. A Pictorial History of the Carousel. New York: A.S. Varnes, 1964. Excellent general information about merry-go-rounds.
Manns, William. Painted Ponies. Millwood, NY: Zon International Pub., 1986.

Spillman Engineering Co. catalogue reprint and Allan Herschell Co. catalogue reprint. Good specific information about both the carving and machinery of these companies.

Carousel-related material, including the Spillman and Herschell catalogues and A Pictorial History of the Carousel, is available from the Vestal Press, P.0. Box 97, Vestal, NY 13850.

CURRENT PERIODICALS

Merry-Go-Roundup, published quarterly by the National Carousel Association. The latest information about carousels -- restoration techniques, historical discoveries, and locations of fine examples.

A subscription to Merry-Go-Roundup is a membership benefit of the National Carousel Association. For information write to: National Carousel Association, P.0. Box 4333, Evansville, IN 47724-0333, 812/428-3675.
WEB Site
National Carousel Association: http://carousels.org/index.html
Prepared by the Division of Cultural History,
National Museum of American History,
in cooperation with Public Inquiry Services,
Smithsonian Institution
PIMS/AH22-5/88B
Rev. 11/01