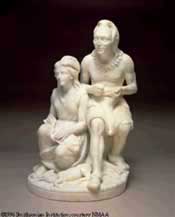 Edmonia Lewis (ca. 1843-after 1911)
Old Arrow Maker, 1872
carved marble
54.6 x 64.6 x 34.0 cm (21 1/2 x 13 5/8 x 13 3/8 in.)
Gift of Joseph Sinclair
Information or research assistance regarding African American women artists is frequently requested from the Smithsonian Institution. The following information has been prepared to assist those interested in this topic.
Black Art Ancestral Legacy: The African Impulse in African-American Art. Dallas Museum of Art, 1989.

Critics, artists, and scholars, including David C. Driskell, Edmund Barry Gaither. Regenia A. Perry, Alvia J. Wardlaw, William Ferris, Ute Stebich, and Robert Farris Thompson contribute their perspectives on the African influence on African American art and artists.

Black History Museum Committee. To The Universe, Black Artists. Philadelphia: UMUM, 1983.

This work is divided into three independent sections. The first section includes essays by and about Selma Burke. Roy DeCarava, and Tom Feelings. The second section, AArt Institutions, Collections, Patrons, Galleries,@ provides crucial data on individual African American artists and groups. Although the literature on how African American art historians and critics evolved is scarce, the third section tackles this subject.

Bontemps, Arna Alexander. Forever Free: Art by African-American Women. Alexandria, Va.: Stephenson, 1980.

The editor of this volume, Arna A. Bontemps and curator of the exhibit. Jacqueline Fonvielle-Bontemps analyze African American art history by focusing on the contributions of women. Contains biographies and works of forty-nine leading African American women artists, including four artists who were in the "Gathered Visions" exhibit: Margo Humphrey, Stephanie E. Pogue, Winifred R. Owens (Winnie Owens-Hart), and Sylvia Snowden.

Campbell Mary Schmidt. Tradition and Conflict: Images of a Turbulent Decade 1963-1973. New York: The Studio Museum in Harlem, 1985.

In this comprehensive treatment of African American art produced from 1963 to 1973, distinguished art historian Mary Schmidt Campbell gives an in-depth analysis of how this period was influenced by the civil rights struggle.

Dover, Cedric. American Negro Art. New York: New York Graphic Society, 1960.

This thematic presentation shows that lyrical vigor, social protest, and group consciousness are elements traditionally found in the paintings, sculptures and folk art of African Americans. Includes biographical summaries and a bibliography.

Driskell, David C. Hidden Heritage: Afro-American Art, 1800-1950. San Francisco: The Art Museum Association of America, 1985.

The exhibition on which this catalog is based showed the contributions of African American artists from the eighteenth-century artisans through twentieth-century painters, including Augusta Savage, Meta Vaux Warrick Fuller, and Selma Burke.

Driskell, David C. Two Centuries of Black American Art. New York: Alfred A. Knopf, 1976.

This book presents a survey of African American art from unknown artisans and journeymen painters of the eighteenth century to internationally known nineteenth century artists such as Edmonia Lewis, through 1976.
Favorite, Malaika. ATracing Threads: Black Women Artists in the American South, Gallerie: Women Artists. June 1990. pp. 31-35.
According to Malaika Favorite, "However personal the painting or work may be, the South is there in the colors, the shapes, the way we say things. It is a sort of tell-tale link that unifies our work.... Black women have always been movers and preservers of the arts.@

Fine, Elsa Honig. The Afro-American Artist. New York: Holt, Rinehart and Winston, 1973.

This book explores the history of African American art from the anonymous artisans of the colonial period through the Black arts period of the late 1960s and early 1970s.

Hall, Robert L. Gathered Visions: Selected Works by African American Women Artists. Washington, D. C.: Smithsonian Institution, 1991.

This exhibition catalog features personal statements, descriptions and photographs of works, and biographical information on Washington. D.C. area artists.

Lewis, Samella S. and Ruth G. Waddy. Black Artists on Art. 2 v. Los Angeles: Contemporary Crafts, 1969. Revised Edition, Los Angeles: Hancraft Studios, 1971.

Introduces and provides biographical information and artistic statements of nearly 150 African American artists.

Lewis, Samella. Art: African American. New York: Harcourt Brace Jovanovich, 1978.

Documents the contributions of African American visual artists and artisans from the colonial period through the mid-twentieth century.

Morrison, Keith. Art in Washington and Its Afro-American Presence: 1940-1970. Washington, D.C. :WPA, 1985.

Surveys the emergence of contemporary African American art in Washington, D. C. from 1940 to 1970.

SAGE: A Scholarly Journal on Black Women. "Artists and Artisans," v. IV, No. 1. (Spring 1987)

A special issue on the history and contributions of African American women artists. Includes essays on an African American quilter, contemporary issues, and artist profiles.

Scarupa, Harriet Jackson. AWinnie Owens: Messenger In Clay," in New Directions. October 1979, pp. 24-31.

A discussion about the themes and artistic techniques of Winnie Owens-Hart's pottery.

Since The Harlem Renaissance: 50 Years of Afro-American Art. Lewisburg, Pa.: The Center Gallery of Bucknell Univ., 1985.

An exhibition catalog that presents the unique experiences of African American artists. Includes essays on black consciousness since the 1960s and abstract art.
Prepared by the Anacostia Community Museum Education Office
in cooperation with Public Inquiry Services,
Smithsonian Institution